Peñón de Ifach - Diedro UBSA
The South face of Peñón de Ifach in Costa Blanca offers a great array of climbing. Most of the routes are bolted but a small rack is more or less essential. Diedro UBSA is one of the more popular climbs on the face and provides a long winding adventure including an 8 meter abseil at one point in order to progress the route to the top. The rock is loose in places so remember your helmet. Pleanty of water is also recomended due to the heat you can get on the south face.
---
---
Approach & Descent Information
Peñón is the obvious land mark you see from Calpe. It should also be well signposted. If you drive to the harbour you can park there and take a short walkaround the and scramble up to the start of this rout on the south face. From the summit there should be a path down through the mountain.
See Peñón de Ifach on the climb map Open climb location in Google Maps
---
Guidebooks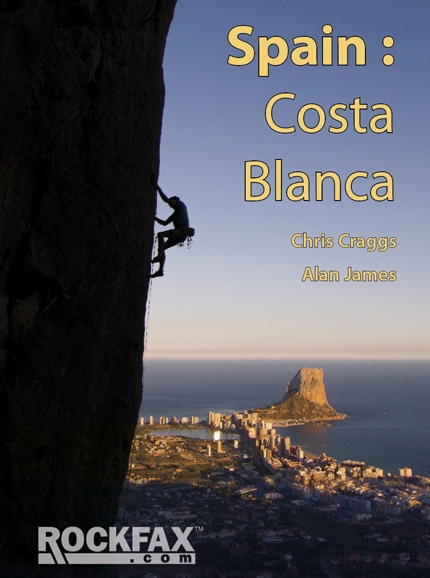 Costa Blanca - pg. 267
A brilliant book covering a wide and varied set of crags in sunny Spain. This Rockfax guide covers the climbs around Calpe including Diedre UBSA and many others. A great book for the multi-pitch climber with a penchant for trad. The old edition can be picked up cheap if you are on a budget, but the updated guide covers more routes and areas. Peñón de Ifach is in both versions in detail.
Availible Here R.R.P. £ 29.95
ISBN: 9781873341954
---
Weather & Local Conditions
Seasonal Weather Information
Note that some weather stations are close or even on the mountain, others are in nearby towns. Plan accordingly!
Estimated Rainy Days Per Month
The graph shows the estimated average number of rainy days in the month that had more than 1mm rainfall or snow:
Estimated Temperature Per Month
15

6

16

6

18

8

19

10

23

13

27

17

29

20

29

21

27

18

24

14

18

9

16

7
Estimated average high and low temperature in degrees Celsius for the given month.
---
Listed Nearby Climbs
The are some top quality multi-pitch rock climbs nearby. Guidebooks (see above) will have a more comprehensive list of other local climbing venues.