Clogwyn Dur Arddu - Great Slab
A great crag and a great route, aptly named the great slab. There is only one technically demanding section up an often-damp corner. The route is long with a lot of variation possible.
---
---
Approach & Descent Information
From Llanberis either take Britain's only Rack and Pinion Railway to the Halfway House, or make the walk from Llanberis. Walk up the road opposite the Royal Victoria Hotel, then take the path left which runs parallel with the Snowdon Mountain Railway. After the Halfway House a miner's path breaks off right to coast beneath the crag and above picturesque Llyn Du'r Arddu. Beware of rock fall. Calculate 2 hours for the walk-in.
See Clogwyn Dur Arddu on the climb map Open climb location in Google Maps
---
Guidebooks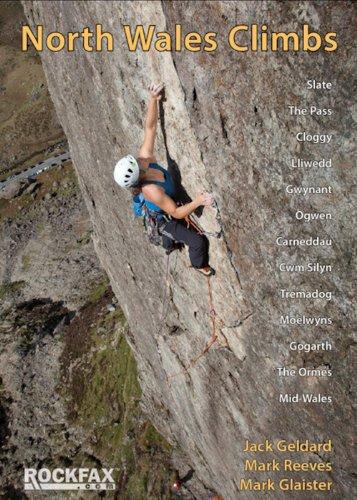 North Wales Climbs - pg. 149
If you could only own one book on multi-pitch climbing in the UK this book would be a great choice. North wales has pleanty of Trad climbs above 50m. The book covers a good selection of climbs on each crag including Cloggy.
Availible Here R.R.P. £ 24.99
ISBN: 9781873341827
---
Weather & Local Conditions
The climb Great Slab on Clogwyn Dur Arddu suffers from seepage and will need time to dry out after rain. Rock climbing after heavy rainfall could be a slimy unpleasnt experiance.
Seasonal Weather Information
Note that some weather stations are close or even on the mountain, others are in nearby towns. Plan accordingly!
Estimated Rainy Days Per Month
13
10
11
9
8
8
8
9
10
14
14
14
The graph shows the estimated average number of rainy days in the month that had more than 1mm rainfall or snow:
Estimated Temperature Per Month
8

3

8

2

9

3

12

4

15

7

17

10

19

12

18

12

17

10

13

8

10

5

8

3
Estimated average high and low temperature in degrees Celsius for the given month.
---
References & additional links
The following links will take you to external websites specifically related to this climb: Great Slab on Clogwyn Dur Arddu.
Note: They contained relevant information at the time of publishing.
BMC Supper Zoom topo of Clogwyn Du'r Arddu
---
Listed Nearby Climbs
The are some top quality multi-pitch rock climbs nearby. Guidebooks (see above) will have a more comprehensive list of other local climbing venues.