Tormore Group - Cnoc Na Mara
Whilst it might seem like an amenable grade and reasonable length, this is a serious adventure on rock that is loose in places with limited reliable protection in places. Expect a long day our for this adventure! The route takes the landward facing ridge to the summit. You will need a small boat or canoe to get to the base and ideally a very calm sea in order to make a reasonably safe crossing. Expect a complicated descent requiring some down climbing and abseiling.
Tidal
Access
Abseil
Required
---
---
Approach & Descent Information
Drive the 22 kilometre c class laneway from Ardara to the road end at An Port, the gateway to Irelands last great wilderness. Fom here on foot, follow the clifftop path for approx 2 kilometre to an outstanding viewpoint overlooking Glenlough Bay, Irelands largest raised shingle storm beach. From this viewpoint descend the very steep grass/scree slope for 200 or so metres and abseil from the two peg belay to the Entrance to Shambala storm beach. From the beach it is a 125 meter sea passage to the base of the stack.
See Tormore Group on the climb map Open climb location in Google Maps
---
Guidebooks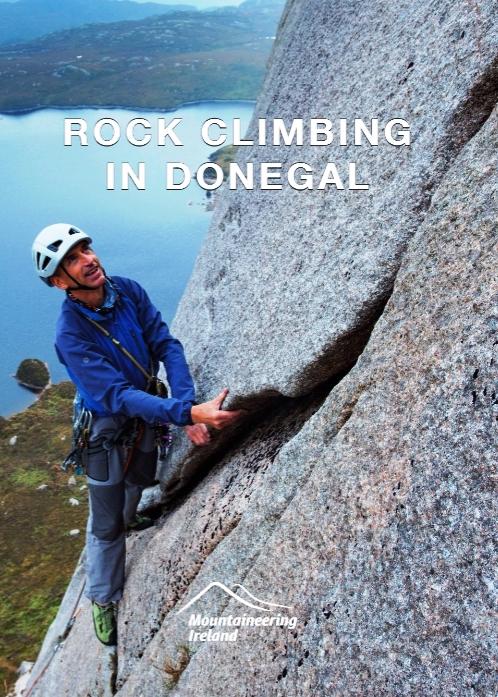 Rock Climbing in Donegal - pg. 80
A very comprehensive guide to Climbing Irelands North West County of Donegal. Author Iain Miller is a very accomplished climber and set many of the first accents in the book including Cnoc Na Mara. The book is great value for money, however if you are on a budget, much of the material is posted free on Iain Millers Website uniqueascent.ie
Availible Here R.R.P. £ 20
ISBN: 9780902940994
---
Weather & Local Conditions
Seasonal Weather Information
Note that some weather stations are close or even on the mountain, others are in nearby towns. Plan accordingly!
Estimated Rainy Days Per Month
19
15
16
13
13
13
15
16
15
17
19
18
The graph shows the estimated average number of rainy days in the month that had more than 1mm rainfall or snow:
Estimated Temperature Per Month
8

2

8

2

10

3

12

5

15

7

17

10

18

12

18

12

16

10

13

8

10

5

9

3
Estimated average high and low temperature in degrees Celsius for the given month.
---
References & additional links
The following links will take you to external websites specifically related to this climb: Cnoc Na Mara on Tormore Group.
Note: They contained relevant information at the time of publishing.
---
Listed Nearby Climbs
The are some top quality multi-pitch rock climbs nearby. Guidebooks (see above) will have a more comprehensive list of other local climbing venues.