A superb and impressive route, often seen as the best climbs of its grade (UIAA IV+) in the Dolomites. The climb weaves its way along the edges of the large black water steak that dominates the face. This water that comes heavy in wetter months, has shaped the rock in to lots of clean jugs making the accent surprisingly easy for the steep face. Make sure you wait for a dry period to tackle this climb or you will have to deal with seepage or potentially a full on waterfall, especially on the higher pitches across the black streak. For those up to the challenge the Dibona Upper Wall provides the logical continuation. Combining the routes gives almost a kilometre of climbing up one of the most impressive faces of the Dolomites whilst never exceeding grade IV+.
---
The Route Topography
This is the route Fedele on Sass Pordoi in Dolomites, Italy. It represents 555m of Dolomite rock climbing, usually over 16 pitches, of a max grade of HS 4a. Clicking the image will load the full screen high resolution Fedele climb topo.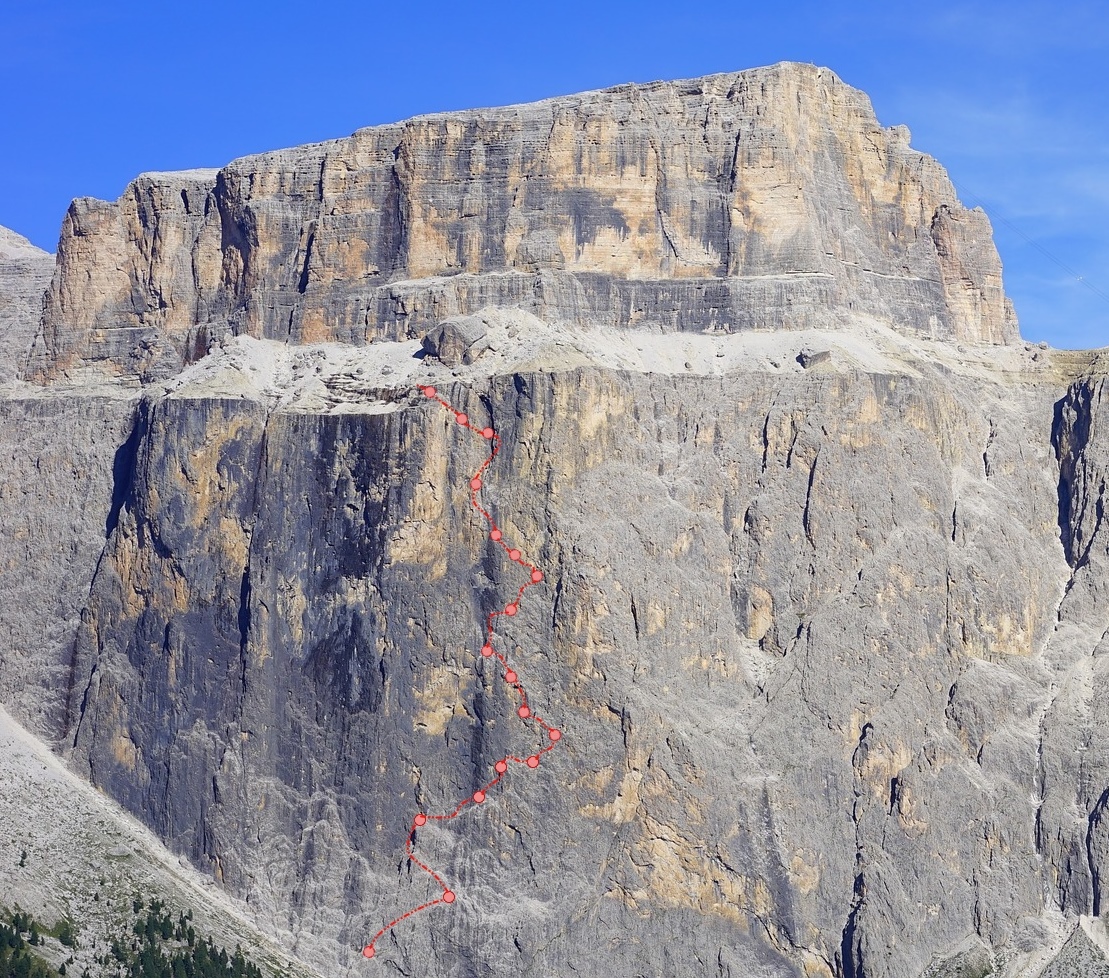 Original Image: Pixabay
---
Approach & Descent Information
Its possible to park at Ristorante Pian Schiavaneis (46.503278,11.802140). From there, head North and slightly East to Sass Pordoi. Start 50m left of the prominent black streak, directly below the huge boulder on the upper ledge. Climb easy scree and rocks to a scree basin where the climb starts.
See Sass Pordoi on the climb map Open climb location in Google Maps
---
Guidebooks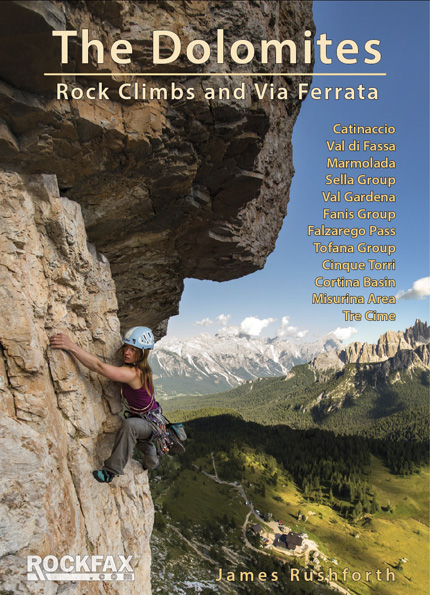 The Dolomites, Rock Climbs and Via Ferrata - pg. 175
This guide covers everything you need for a multi-pitch climbing trip regardless of ability, it also has sport, trad and via ferrata routes. It features all the major areas and has very clear topos and route descriptions including Fedele and the extension and adjecent route Dibona.
Availible Here R.R.P. £ 29.95
ISBN: 9781873341971
---
Weather & Local Conditions
Seasonal Weather Information
Note that some weather stations are close or even on the mountain, others are in nearby towns. Plan accordingly!
Estimated Rainy Days Per Month
The graph shows the estimated average number of rainy days in the month that had more than 1mm rainfall or snow:
Estimated Temperature Per Month
5

-6

8

-3

14

1

18

4

22

8

26

12

28

14

26

14

18

10

18

5

10

0

6

-5
Estimated average high and low temperature in degrees Celsius for the given month.
---
Listed Nearby Climbs
The are some top quality multi-pitch rock climbs nearby. Guidebooks (see above) will have a more comprehensive list of other local climbing venues.