Vajolet towers - Piaz Arete Delagokante
The Arete on the Torre Delago Tower is a true classic. It's both polished and popular, but for a reason. The exposure and views are incredible and the climbing sits firmly at the easier end of the scale with a grade of UIAA IV+. The is a mountain refuge nearby but it's over an hours hike to get here.
---
---
Approach & Descent Information
Approach: There is a shuttle bus that runs between Pera in the Val di Fassa and Rufugio Gardenccia (approach time is measured from Rufugio Gardenccia [Gardenccia shelter/mountain refuge]). The service departs from the large carpark by the Ciampedie chairlift in Pera. From here hike to the Rufugio Re Alberto, then follow the well worn path to the towers. Take the path behind Torre Piaz until reaching the gully between the larger towers of Stabeler and Delago. The rout starts from the ledge.
Descent: From the east edge of Delago, make a 40m abseil to a notch between the two larger towers (Stabeler and Delago). Make another 40 then 45m abseil to the base of the gully between the towers to the ledge the route started on. From here you can hike back.
See Vajolet towers on the climb map Open climb location in Google Maps
---
Guidebooks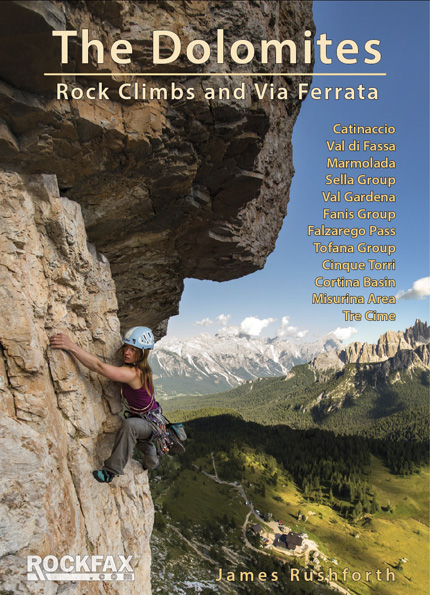 The Dolomites, Rock Climbs and Via Ferrata - pg. 86
This guide covers everything you need for a multi-pitch climbing trip regardless of ability, it also has sport, trad and via ferrata routes. It features all the major areas and has very clear topos and route descriptions including the Catinaccio / Rosengarten region where the Vajolet Towers are located in the Alps.
Availible Here R.R.P. £ 29.95
ISBN: 9781873341971
---
Weather & Local Conditions
Seasonal Weather Information
Note that some weather stations are close or even on the mountain, others are in nearby towns. Plan accordingly!
Estimated Rainy Days Per Month
9
7
10
10
12
14
15
14
10
7
9
9
The graph shows the estimated average number of rainy days in the month that had more than 1mm rainfall or snow:
Estimated Temperature Per Month
-7

-18

-4

-15

2

-11

5

-7

10

-3

14

0

16

2

15

2

10

-2

4

-7

-3

-13

-7

-17
Estimated average high and low temperature in degrees Celsius for the given month.
---
Listed Nearby Climbs
The are some top quality multi-pitch rock climbs nearby. Guidebooks (see above) will have a more comprehensive list of other local climbing venues.